Skip to Content
Leading Provider of Propane
TMK Valley Propane is proud to offer our propane services to Tuscarawas and surrounding counties. When families, farmers, or businesses inquire about our services, they can rest easy knowing they're working with an industry leader. Our propane services include emergency calls and access to a team with the skills needed to switch providers efficiently and seamlessly and install your new propane system. If you're ready to switch to a customer-focused small business, don't hesitate to contact us to schedule a consultation.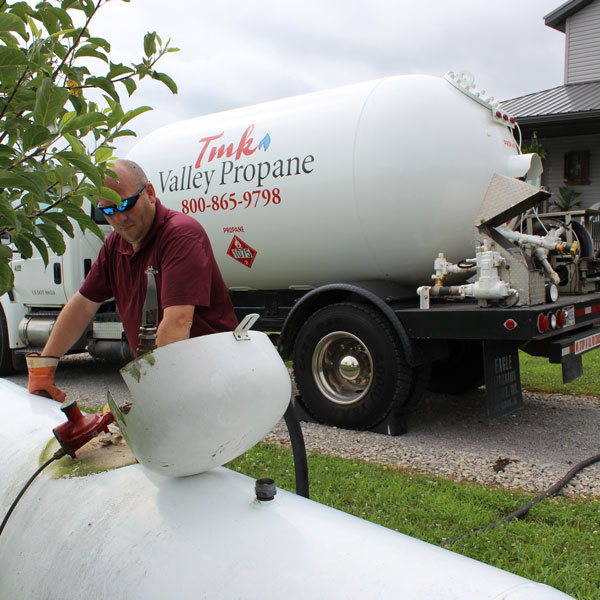 Take Advantage of Our Residential Propane Services
Regarding your home, propane can be used in various heating applications and appliances. When you choose propane, you're using a cleaner energy source that will get the job done effectively. Propane can also help you save on your energy costs. The appliances that would benefit from our propane services include:
Furnace Systems
Cookstoves
Water Heaters
Dryers
Generators
Garage Heating
Pool Heaters
What We Offer Our Customers
When customers switch to TMK Valley Propane, they receive several benefits. These benefits are available to all our customers. Whether you're a farmer or homeowner, we believe everyone should have access to the same options. Here is a more in-depth look at what we offer all our customers:
Budget Billing
Keep your energy expenses under control, even if propane prices fluctuate. When using our budget billing option, you'll know exactly how much to pay monthly.
Scheduled Fill Programs
This program will help ensure you never run out of propane with our tank monitoring systems. All our scheduled fill customers have a monitor that will send us a daily reading to ensure we fill your tank at the most optimal time.
Pre-Buy Program
Take the worry out of buying propane. Our pre-buy program will allow you to pay for your needs upfront and enjoy the benefits as a scheduled fill customer.
Locally Trusted Propane Company
We take pride in offering our community a wide variety of propane services. When you choose us, you can rest easy knowing you're getting access to several programs designed to keep your energy costs low while ensuring you never run out of propane. Whether you need propane for your home, farm, or business, we have solutions catered to your needs. To start getting these benefits for yourself, don't hesitate to reach out and schedule a consultation. We look forward to working with you.
Don't Wait. Call Us Today!