Skip to Content
Review Our Propane Resources
TMK Valley Propane in Bakersville, OH, believes that all our customers should have access to resources regarding propane usage. While propane is a cleaner and more efficient energy, we want to ensure our customers are informed. We created a page of resources, including a FAQ, to help. If, after reading this, you still have any questions regarding propane use, don't hesitate to reach out. Our team would be happy to answer any questions you may have.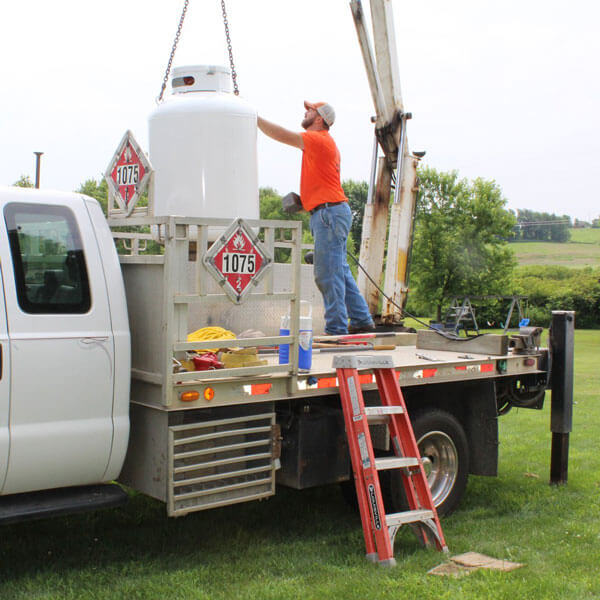 A Customer-Focused Approach
TMK Valley Propane uses wireless tank monitors for schedule fill customers and a proprietary app to help our customers gain insights into their propane consumption. This technology also allows for fewer deliveries, which means less truck fuel burned, less emissions, and a healthier planet. If you have any additional questions or concerns, contact our team today.
Addressing Your Propane FAQ
While propane can be used throughout your home for heating and cooking, we wanted to answer some commonly asked questions about propane usage in and around your home. As we mentioned before, if your question isn't listed or you're still unsure, don't hesitate to reach out to our propane experts. Here is a list of the most asked question regarding propane:
How does propane get to my home?
Propane is delivered to your home's tank as a cold liquid, and as it leaves your tank to be used, it's turned into a vapor gas. Tanks are usually white or silver to help reflect some of the outdoor heat to prevent the pressure inside the tank from getting too high. On top of your tank will be a cover that houses several essential components. There, you'll find the tank shut-off valve, the regulator, the safety relief valve, and the gauge. When the propane leaves the tanks, it'll go through underground pipes into your home.
---
What should I do if I smell gas?
The first thing you should do would be to go around and put out all flames or smoking items. Don't operate any lights, appliances, telephones, or cell phones, as a tiny spark can trigger an explosion. Leave your home and turn off the gas from your tank. Then you should get to a safe distance and report the leak to us or 911 and wait to reenter the building until a professional has inspected and signaled that everything is okay. Finally, before using any of your appliances, have us check your entire system to ensure it is leak free.
---
What does propane smell like?
It has a strong and unpleasant odor like rotten eggs, skunk spray, or a dead animal. Propane manufacturers add the smell to better alert customers of a leak in their homes.
---
What should I do if I run out of gas?
First, an out of gas situation can lead to safety hazards. A leak check needs to be conducted, and we highly recommend setting up routine deliveries or becoming a scheduled fill customer.
Don't Wait. Call Us Today!